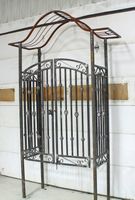 Our Wilmington gates are very popular with our clients and we now are putting the center divide version inside arbors. This one turned out wonderfully. Since we make these we often adjust the size to help our client fit their situation. Let us know if we can help.
The very top of this arbor is 7" wide and will be 24" front to back. The gate area is approximately 55" wide and 90" tall.
This arbor was made to be anchored into the ground. That is why you are seeing it with long legs. We can make these work on hardscape too so let us know what your needs are.