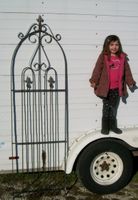 Discontinued Item - Spring 2020.
Our skilled craftsman constructed this garden gate to fit our customers needs. The steel was bent and welded into place to fit their specific size. You can see that it turned out well and they needed a narrow tall gate. We can fit your gate with posts and a latch so it if fully functional. 81" tall x 24"
Don is a welder by trade and found his calling at creating vintage styled gates and fencing. His products all have the look of early 1900's antique fencing and gates. Each one is formed by hand and welded using solid steel with cast iron finials. Wonderful!
This item is made after the order. We are fast but it does take 2 weeks and transit will be 3 - 5 days so 3 weeks can be expected for you to received your arbor gate.
Our wrought iron fencing and gates are unfinished which oxidizes to a rusty finish. Our rustic looking fence works well with most homes and neighborhoods. The solid welded iron fencing will last for generations and never has to be painted. Some of our customers do choose to paint it and we recommend a rusty metal primer and then top coating.