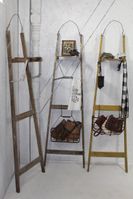 Choose from 2 different wrought iron rustic baskets to compliment this taller antique ladder caddy shelf. You can lean these to make great display or hang them from the twisted wire that we have attached. The old painting ladder has the handy shelf you can use and we provide the basket with rustic hook to attach it.
All our ladder are vintage so they will vary but all have tons of character. If you have a special need just let us know.
Our paint surfaces are dry brushed for the rustic look fitting our antique ladders. If you want an unpainted ladder it will have old paint drips from years of use.
Measures 69"tall with the wire loop being 7" more x 21" wide at the bottom - Sizes could vary an inch since these are all old and made differently.